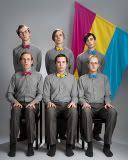 Slagsmålsklubben @ Water Rats, 7/12/07
I don't normally talk about the crowd, but there was someone at this gig who I clocked out of the corner of my eye, rendering me into a pubescent pile of fan squee incapable of sustained conversation. It was Stefan Osdal, the bassist from Placebo. I'm certain I'm not the only indie-homo of a certain age who spent long nights at home pouring over Select (cue nostalgic sigh) desperate for the briefest of quotes from an almost silent, but completely out gay rock musician. I could not believe by teenage luck, stumbling across an article and reading about Stefan sucking cock and the different flavours spunk had depending on what they'd eaten that day. I fantasized about that for months.
As you can see it made me somewhat distracted me from the purpose of paying NINE POUNDS to see some live music, but was an acceptable form of compensation. I was surprised to see that Paul St Paul were the first band on. Despite severe technical problems (the kind that have ruined weaker acts like, say, Milli Vanilli) they are still the best glam rock pop band gigging in London. I've made them sound like Green Day but I mean Proper Pop, almost Almighty style electro pop, with a bit of Prince funk and 80's cheese guitar licks.
There was a Swedish songstress inbetween the two bands. She had a beautiful haunting voice and a beautiful haunting face and played beautiful haunting music. The audience was captivated and she is undoubtedly destined for great, great things. However I was bored tearless and didn't catch her name.
Slagsmålsklubben make me want to do hard drugs. They're a six piece (who appear to have five instruments to play, so shuffle awkwardly around looking for instruments to steal) One of them looked like Timmy Mallet if he was in Trainspotting. One of them looked like a drunk David Walliams. The whole effect was not that unpleasing. They played really trancey, hard dancey electro but always sounded like they were on the verge of breaking into the Haribo jingle. It would sound a million times better outdoors at some semi-legal unorganised field rave, but at least a pokey back room in Kings Cross has a working toilet.