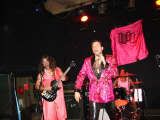 Black Fag @ The Purple Turtle, 04/12/07
[photo by jamie taete]
"This is a most fabulous tribute to Black Flag" screeches screaming queen and lead singer Chris Liberace, whilst they launch into drum punishing punk that can be heard in a thousand pubs across the land for the last thirty years.
But there's something a little different about this band. The brawny drummer is in a too small pink ballet number. The rotund guitarist is in pantomime ugly sister drag. The bassist is wearing aviator shades and a 'DYKE just do me' t-shirt. Their frontman is, in so many ways, captivating. It could be the silver sequin trousers, the limp wrists, the pink satin smoking jacket, the foppish hair and pencil thin moustache, the gold shirt or it could just be the way he shakes those skinny little hips. The man is a sexier version of Dick Valentine (Electric Six) without all the prick teasing.
Musically Black Fag aren't going to win any prizes, but that's not why you go to see a tribute band or sit in front of the telly every Saturday watching cover after horrendous cover on X Factor. The band manages to transcend their tributary act by injecting punks ridiculous macho posing with enough energetic camp to fuel an entire season of Panto. Oh, and something the punk scene is in dire need of – humour. Muttering between song banter "No Victoria, it's not pissed, it's wasted..." whilst flailing a silver cocktail glass, veering from Britney to Mohawks, Black Fag should be enough to bring a tear to Henry Rollins' eye.